Barco Delivers Trucks Near You
Pickup and Truck Delivery for All Truck Rentals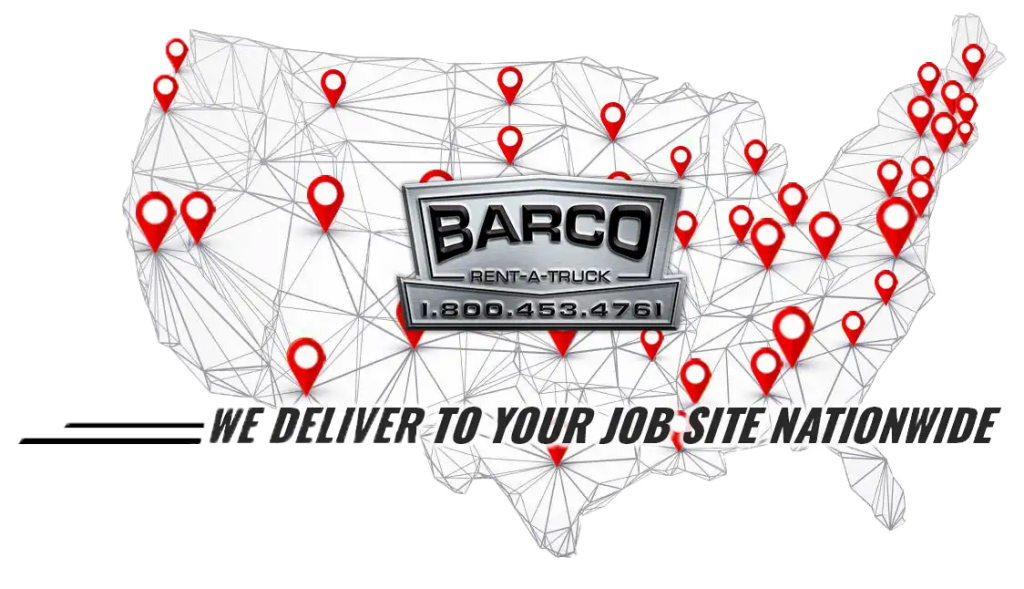 You're looking for reliable rental work trucks at an affordable rate. Barco is the solution, and better yet, we offer truck delivery on all truck rentals throughout the continental United States. 
Our commitment to great customer service is so high that we will do everything we can to cater to you when it comes to your delivery needs. 
Barco's commercial fleet of rental trucks allows your business the flexibility of month–to–month pickup truck rentals nationwide. We keep it simple by offering new trucks, nationwide delivery & pickup, and no long-term contracts.
Where We Deliver
Barco offers rental truck delivery throughout the continental United States.
It's not necessary to be in a big city, either; if there's a road to where you are, we can deliver.
We do all of the logistic work to get our customers their trucks in a timely manner. Once you finish with the trucks, simply contact us to let us know when and where you want them to be picked up. We can even come get them at the jobsite.
Industries We Serve
We are proud to serve multiple different industries, and we hope to be able to serve yours by providing you with premium work vehicles when you need to get the job done.
Here are just a few of the industries we serve:
Electrical

Infrastructure

Environmental

Engineering

Renewable Energy (Solar, Wind, etc.)

Construction
With so much experience with businesses (large and small) all over the country, you can be sure that we are ready and more than willing to help yours too. 
We understand that each industry will have different needs. Whether you need one rental truck or 50, we can provide those vehicles and deliver them directly to you. No matter what industry you work in, we will do everything we can to get you the right work vehicles for your needs.
Rental Trucks We Deliver
All of the fleet work trucks we offer are available for delivery. For your convenience, we offer four different work truck models for rental: 
½ Ton Pickup (RAM 1500 Laramie Crew Cab 4×4 Pickup & GMC Sierra 1500 AT4 Pickup)  

¾ Ton Pickup (RAM 2500 Laramie Crew Cab 4×4 Diesel Pickup & Chevrolet Silverado 2500 LTZ Pickup)
Each truck has different features that make them suited to certain types of jobs. Feel free to contact us to get our expert opinion if you aren't sure which trucks would be best for your work fleet. 
Delivery and Pickup Makes Life Easy
At Barco, we value your time. That's why we are committed to making things simple, convenient, and stress-free for our customers. 
Rental truck pickup and delivery make your life better by:
Saving you time

Eliminating the stress of renting in-person

Getting you work vehicles wherever you need them (even remote locations)

Saving you the hassle of returning the vehicles

Ensuring that you always have quality vehicles when you need them

Providing fast delivery
Let us help you focus on what you do best by removing picking up your rentals from the equation. It's just one less thing you need to worry about. Trust us for peace of mind. Rent with Barco.
Trust Barco Rent-A-Truck
We are committed to our company motto: "Keep it simple." When you need trucks, we'll get them to you anywhere in the continental United States. We'll save you time and a headache by delivering the trucks to your worksite (usually within one week of your order). And when you're done, we'll come pick them up. 
Quality customer service is one of our core commitments, and we strive to live up to it by offering you competitive rental rates. We even offer you our price match guarantee for any quote you get on similar work trucks. 
Contact Barco today for a quote, or check out our FAQ for more information.