Rent 2023 3/4 Ton Trucks Nationwide
If you're a contractor in need of reliable, powerful, and versatile trucks for towing large loads and carpooling with your onsite crew, look no further than our diesel truck rental fleet. We are your trusted rental provider, offering top-of-the-line ¾ ton diesel trucks designed to meet the demanding needs of businesses like yours. Short or long-term renting is available.
Nationwide Delivery & Pickup
Brand New 2023 4x4 Trucks
Towing & Uplifting Permitted
Current ¾ Ton Diesel Truck Rental Inventory
Ram 2500
Laramie
Brand New 2023 Crew Cab 4x4 Truck
Details

RENT NOW!
Diesel Engine
Automatic Transmission
Crew Cab
Leather Seating
Backup Camera
Integrated Bluetooth
Tow Package
Electric Brake Controller
Exhaust Brake
Tow Mirrors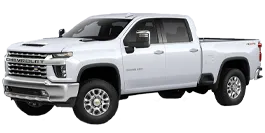 Chevrolet 2500
Silverado LTZ
Brand New 2023 Crew Cab 4x4 Truck
Details

RENT NOW!
Diesel Engine
Automatic Transmission
Crew Cab
Leather Seating
Backup Camera
Integrated Bluetooth
Tow Package
Electric Brake Controller
Exhaust Brake
Tow Mirrors
Heavy Duty ¾ Ton Truck Rentals for The Bigger Projects
Our truck fleets are hand-selected so we can offer our clients the best trucks on the market. All of our ¾ ton trucks are diesel engines with the power to get real work done. These trucks are made to make your life easier by doing the lifting for you. Whatever your need may be, we can get you a short or long-term rental that can help you get the job done. Contact us to see which truck meets your needs best.
Choose a ¾ Ton Truck to Rent
Not all trucks have the same capabilities, features, and design. We want you to rent the ¾ ton truck that suits your needs best. Whether you're looking for better traction, towing capacity, truck bed space or interior comfort and technology, we've got it all and we are happy to discuss your options with you, including comparisons.
Why You Choose Barco for Your ¾ Ton Diesel Truck Rentals
Experience:

We've been doing this for over 40 years. We are totally dialed in to the many needs and uses for ¾ ton trucks. We understand the importance of deadlines, equipment performance, and the need to get more than a few people from job site to job site. Renting ¾ ton trucks from Barco means renting from people who get it.
Convenience:

We offer 24/7 roadside assistance on all of our vehicles. We will also bring your ¾ ton trucks to you! It couldn't be easier to have the trucks you need, delivered right to your job sites and ready to take over and use to get the job done. Barco makes truck rentals easy and convenient. 
Unparalleled Performance:

At Barco, we understand that contractors require trucks that can handle heavy towing and provide reliable transportation for their crew. Our ¾ ton diesel trucks are built to deliver exceptional performance, combining robust power with fuel efficiency. With their impressive towing capabilities and sturdy construction, these trucks are the perfect choice for tackling demanding projects.

Versatility for Towing and Carpooling:

Our ¾ ton trucks excel in both towing capacity and spaciousness, making them ideal for transporting equipment, materials, and your crew to and from job sites. The combination of their powerful engines, towing capabilities, and ample seating capacity ensures that your team can work efficiently while maximizing productivity. Renting from Barco means having a versatile solution that caters to both towing and carpooling needs.

Reliability and Maintenance:

We understand that time is money for your business, and equipment downtime can be detrimental to your project's progress. That's why we meticulously maintain our fleet of ¾ ton diesel trucks to ensure maximum reliability. We only use new trucks that are under warranty. Our vehicles undergo regular inspections and servicing, ensuring they are always in peak condition and ready for your toughest jobs. With Barco, you can trust that our trucks will be there when you need them most.

Cutting-Edge Features:

Our 2023 4×4 diesel trucks come equipped with the latest features and technologies to enhance your driving experience and provide optimal safety. From advanced towing systems to intuitive infotainment systems, we prioritize the comfort and convenience of our customers. Renting from Barco means enjoying modern amenities that make your work more efficient and enjoyable.
Frequently Asked Questions (FAQs)
What is the towing capacity for 3/4 ton trucks?
Our ¾ ton diesel trucks offer impressive towing capacities, enabling you to handle various loads efficiently. They can tow up to 17,800 pounds. The exact towing capacity may vary based on the specific model. To find the truck that suits your towing needs, please contact our knowledgeable team, and they will provide you with detailed information and comparisons.
Are there any mileage restrictions on ¾ ton truck rentals?
We understand that contractors often have projects that require extensive travel. At Barco, we offer flexible mileage options to accommodate your needs. Whether you have a short-term or long-term project, we will work with you to determine the best rental plan that suits your mileage requirements.
Can I rent a 4x4 diesel truck for off-road projects?
Absolutely! Our 4×4 diesel trucks are well-suited for off-road projects, offering enhanced traction and stability. Whether you need to navigate rough terrains or access remote job sites, our trucks are built to handle challenging conditions. Contact us to discuss your specific off-road requirements, and we will recommend the most suitable truck for your project.
How can I make a reservation for a ¾ ton diesel truck rental?
Making a reservation with Barco is quick and easy. You can visit our website or contact our friendly team directly. We will guide you through the reservation process, answer any questions you may have, and ensure a seamless rental experience. With Barco, you can focus on your projects while we take care of your truck rental needs.
What makes a truck a heavy duty truck?
Trucks are categorized based on their weight. Light-duty trucks are defined as those with a gross vehicle weight of 14,000 lbs or lower. Medium-duty trucks fall within the weight range of 14,001 lbs to 26,000 lbs, whereas heavy-duty trucks have a weight between 26,001 lbs and 33,001 lbs.
Rent a ¾ Ton Truck Today!
Barco is the premier choice for contractors seeking powerful and versatile ¾ ton diesel truck rentals. With our extensive fleet of 2023 4×4 pickups, we offer unrivaled performance, reliability, and value. Whether you need a truck for towing heavy loads or carpooling with your onsite crew, our rentals provide the perfect solution. We service all 48 contiguous states and can find you the right ¾ ton truck today! Trust Barco to provide you with cutting-edge features, impeccable maintenance, and exceptional service throughout your rental journey. Contact us to reserve your ¾ ton diesel truck today!